Good:
I started some lovely monkeys with yarn I got at my new LYS (it's not exactly local - about a 1/2 an hour away. But I like it! But I've only been there once).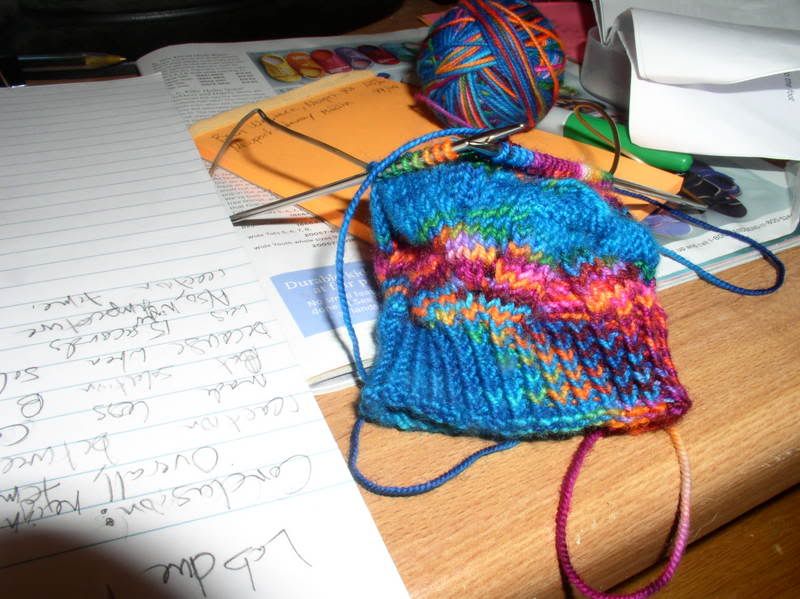 Also good - I was much farther then where I was in the picture - past the heel, almost ready for the toe.
Bad: I don't know where the sock is!!! Or my ADDIS!!! I could deal without the yarn (I only wound a 1 ounce ball of it so I could easily carry it), so I have about 2.5 ounces left - enough for ankle socks. But my addis! Why?
I thought I had left it at school, but no. I remember before going to work that I reached into my bag, and touched the little pouch that I've lost and thought, "Oh, whatever, I'll just bring it to work". No, bad, stop!
So I brought it to work. And then I went to the bathroom, and I remember digging in my bag for an elastic, and feeling that my little pouch was there. Then, next thing I know, I'm walking home with no little pouch! By the end of the night I was panicing, and I still am! What if someone stole it? WHY IN THE WORLD would someone steal KNITTING!???
And I've figured out exactly why I knit - if I don't, I feel as if I'm going to get a rash.