I know this is odd, but these socks remind me of that song (Orange Crush - REM). And this is why:
They are generally this color, but sometimes....
There are little bits of orange amongst the maroon/burdgundy/purple/silver.
It was just really weird the first time I saw the orange - I still don't understand how purple, red and silver in the dyepot can make orange too. And not even alot of orange, just little specks.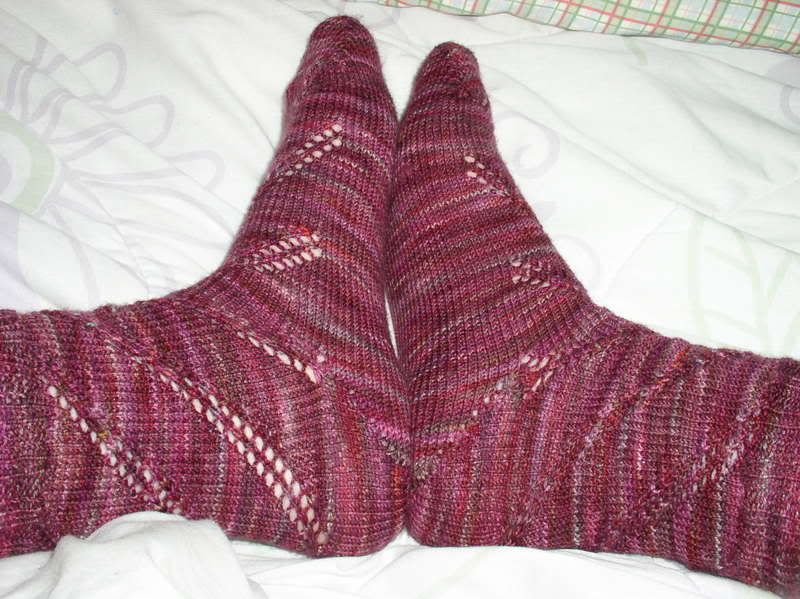 Mrs. Gadd's Socks (my english teacher who offered to pay for the yarn...!!!)
Pattern:
Anastasia Socks
Yarn: Claudia's Handpainted fingering weight, "Just Plum" - I got this from a Ravelry user who sold it to me for about $9 off retail. This is a dangerous thing....
Needles: Size 1 (2.25 mm) circ and dpns.
Mods: Well, two accidental ones. First off, I started the pattern wrong, with 10sts between the eyelet/k2tog/ssk instead of 11. Then when I got to the leg, I figured that out (after ripping a million and a half times) and decreased down to 56 sts on each socks (by this time, one was on the circ and the other on the dpns.). At least, I thought I did. On the ssk sock (the left one??)I actually had only 57 sts. Opps! They still fit the same, damned if I'm going to re-knit it now. Oh, and I did 2x2 ribbing.
Cast on: Feb. 3
Cast off: Feb 9
Fastest pair of socks ever?
While I was outside photographing this, I remembered something.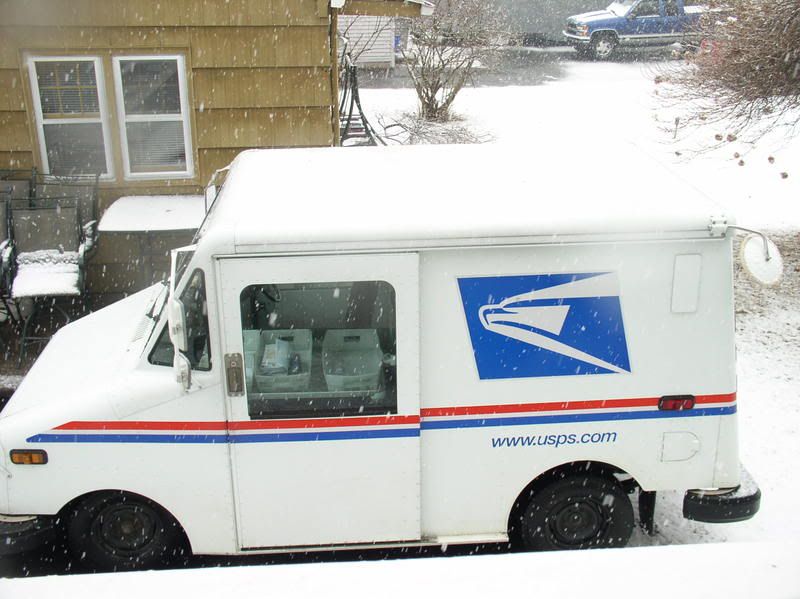 My neighboor's a mail man. Oh, wait, it gets better. He has a roomate thats ALSO a mailperson. And two summers ago, I babysat for a little 8 year old boy, and my neighboor delivered to the eight year old boy's house. Weird, huh?
I started
Muir
on thursday, and it's going well. Slowly over 125 stitches, but still, going.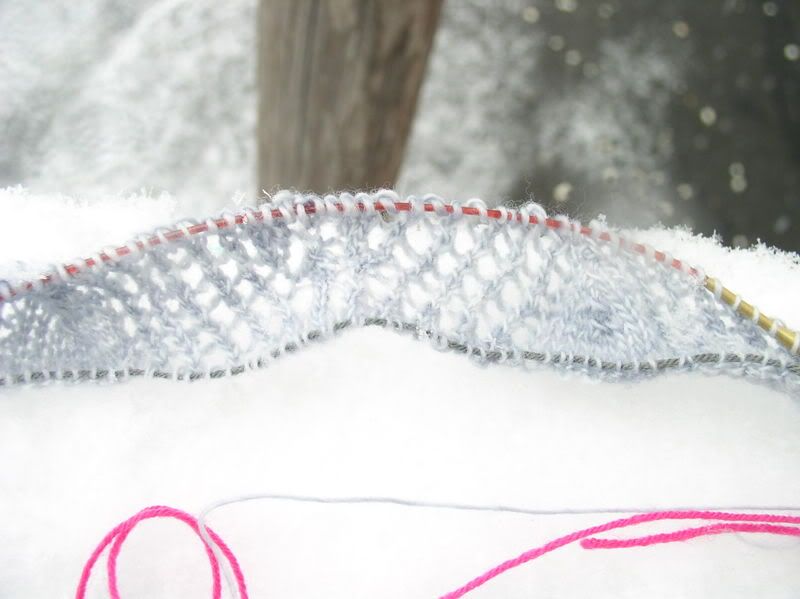 I'm using Malabrigo lace, but I only have two skeins, so I'm using size 4s instead of 6s. I figure I can always cut it a repeat short if I need to.