Edit to add:
(it's only blocking, so more pictures tomorrow!)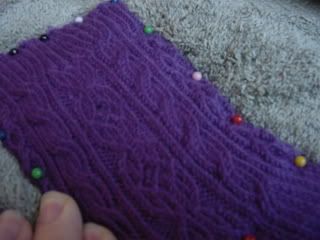 So I finished them, then my camera won't work... It's charging at the moment, and once it's charged, I will have lovely knitting pictures for you. (Mike brown is coming over, so I can be a foot model!)
In other news, I am going to get the yarn for Mike's sweater vest tomorrow or the next day (once again, there'll be pictures). Just plain-old woolease, so nothing too exciting, but it is YARN after all.
The pattern I'm using is
here
- it's literally just a simple sweater vest pattern. He wanted some cables, but I didn't know how that would effect the pattern and the stretch so I decided against it. I'm planning on getting seven balls of woolease, hopefully that'll cover it.
Keep in mind that I still haven't finished the
endpaper mitts
. Yes, I know I'm a procastinator. I started them a month (?) ago. I finished the first, then got involved in the Socks, and now the vest. I think part of the problem is that the yarn is relatively unexciting. Sorta the same shade as each other, so the pattern isn't very view able.