Every time I go on Ravelry (app. every three minutes), I search for new posts on the destashing group or new yarns to sell that are my favorite yarns (i.e., silk lace, or socks that rock). So I do (and have been) trading quite a bit on Ravelry. I almost always check the person though searching the name through the forums, so I can see if they're on the "naughty" list. So every time I do this, I catch little glimpse of what they do on ravelry, - dishcloth swaps, coffee swaps, if they're a moderator, etc. It's just so weird to see what other people do. Just a little glimpse of only one part of their life!
But anyways. My prom's tomorrow. I'm ready - the dress is totally finished (yes, I may not have a petticoat, but I am wearing a poofy skirt of mine underneath), so is the purse and shawl. I'm ready. I even painted my nails (natural, but I have nail polish that matches my dress, soooo...). I'm working tonight, and the best part is I wore what I'm wearing to work to school. I love not having a uniform.
The only issue I'm having is my hair. I really want like a classic 1950s updo, because I really just look like a housewife at a cocktail party with my dress, shoes and shawl.
Like here.

But sadly, I just don't now to do that! (if anyone has any suggestions: tell me!) So I think I'll just do what I did last year with just curling it.
Oh, I dyed some yarn!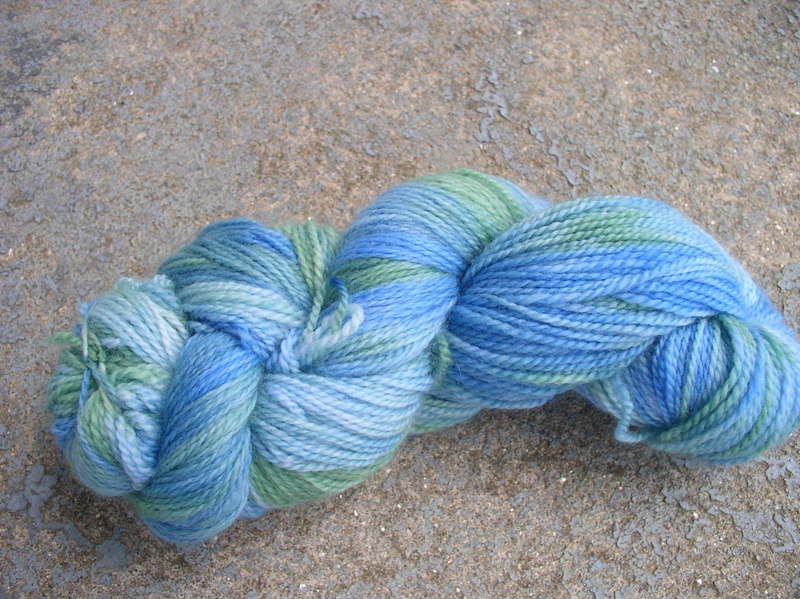 For sale at my etsy shop (look at the sidebar).
This one is my favorite. I think I might have to keep it.
I'll update more later. I've actually been knitting my printed silk cardi, it's about 6" in the body !!!! I might actually have a sweater soon (aka in two months!).