I have a somewhat completed dress. Minus the hem. (on a full circle skirt though, so it'll be hell!)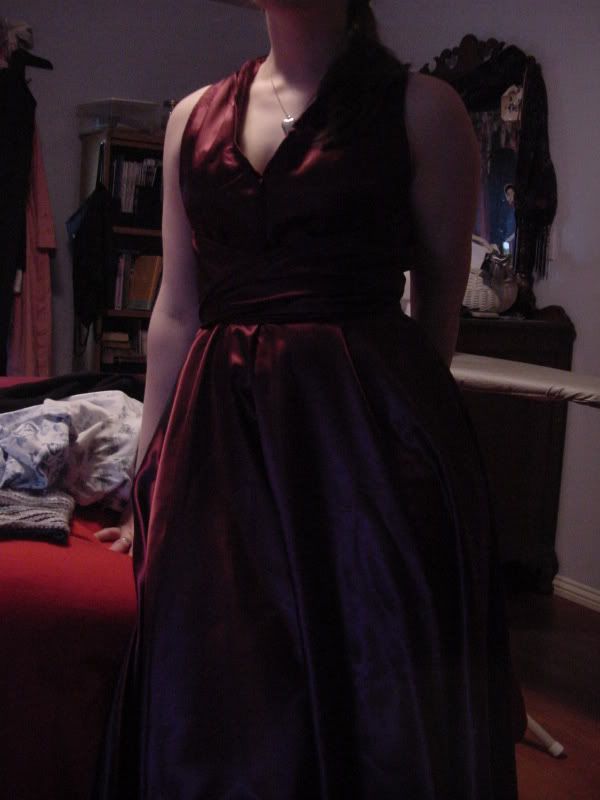 Pretty, huh? Which is great, considering about two hours ago, this dress looked like a bag around my chest. I pulled in the V-neck and made some darts in the shoulders to stop that cowl-like thing going on there. Right now, the dress is around ankle length, but hopefully, I can get someone to wear it tomorrow so I can cut it to see what length I want it. I think I want it knee length, and I think it probably won't need a bit of tulle... but we'll see.
I finished my cousin's sock today, but I can't wear it, and it's not very interesting. And that shawl, I'm almost done with the second repeat. I'll probably wait for pictures until it's blocked.
Oh! The AP tests were alright. Now that's it's over, I'm just so relieved. The socks really helped me on test day, because I had mini panic attacks before each essay on thursday ("oh, I can't do this, I'm going to get a 2, oh dear!").
But I think I didn't fail (I hope!).
This was right before the AP English Test:
(those are my friend, Molly's legs.)
But the best part is from now on, I don't do anything in English or Gov't for the rest of the year....hehe.