Well, there is hope. Hopefully...
I have a few pictures for you, first, why I am so hopeful:
I sewed it and had him try it on BEFORE I cut it (how clever am I?). My machine seemed to have caught every little stitch, which makes me want to bounce up and down. It is very exciting to have this thought work out.
As you can probably see in the picture, I am now working on the neckband, and am almost done. So close I can taste it.
And then, there is more. Since my castrophy with the vest, I backslid into an older project:
endpaper mitts
. So I had knit the first repeat of the pattern earlier, and I contuined merrily on, not realizing that I was doing this weird twisty thing with the yarn that made my gauge insanely off! So, I frogged back to the ribbing, and I think (?) I just started on the second repeat.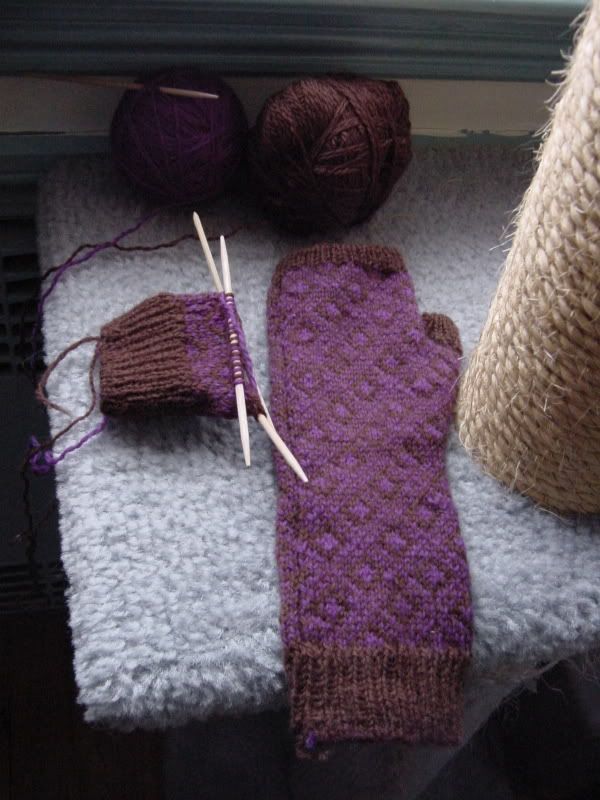 Also, I've been VERY annoyed with dpns lately. I don't know why. I've always hmped in the face of all those people who worship in the temple of magic loop. But, I need a #3 circ needle for a shawl I'm planning on making, so I've decided I'll learn magic loop using the same needle. (The shawl is Eunny's Print o' the wave in a black laceweight for prom)
And then there are all the ideas: a cabled cotton cardigan (that's a mouthful) that I've been talking about for about a month, a u-neck blue short-sleeved cotton cabled pullover that just took root on Wednesday, a pair of knee highs with a diamond colorwork pattern, a plain pair of socks to try out magic loop on, and a rainbow tank top with heart buttons an idea that came from a store in the mall.
Not to mention the project patterns that others have written: I want to make jaywalkers for the boyfriend, the previously mentioned Print o' the wave shawl, I should finish the shrug that I started last fall (?), and the endpapers.
But I have a problem. I am extremely low (but only on my standards) on cash, so I can't buy yarn for any of these things, except maybe the shawl and the jaywalkers.
GAH! Money is such an obstacle.
For kicks here is a picture of the sweater that I refuse to take a picture of me wearing:
(I am sorry about the pictures. Photobucket seems to have a gruge against me)