I've been really bored the past few days, hence the longer posts. But along with this lack of things to do (I hate knitting without watching TV or reading, so I don't knit until night time), I've been looking at yarn for just about everything I've mentioned making. And someone posted on Craftster that there was a big sale at a website called knithappens.net. I thought I was going to have to buy something (I was shaking), but I then found most of the yarn was sold out. That was a close one.
I think (THINK) that I'm going to get some black laceweight from handpaintedyarn.com to make that stole. Mostly because Eunny says you only need 800ish yards and well, the skein from the site is 950 yards (and about $6). But, I still need needles, and I need more motivation.
Also, I need a Prom DRESS. Yes, I'm making it. It'll be green and blue, and I have it all cut out - but only 2 seams sewn. Prom is on May 12? I think. I want to have it entirely finished by the end of April vacation, so that'll be the 22nd. That's just a little teeny bit terrifying.
Oh, and I forgot to say why I've gone entirely crazy. I'm going to make my shoes too. It'll cost me alot less, and they will match, because I'll use my dress fabric (we are not talking walking shoes, so why not make them delicate?). And they'll fit my wide feet and NOT give me blisters. God, how I hate loving shoes.
Back to knitting: I've started a soon-to-be-felted bag, the accessories bag from Weekend Knitting. Its out of all my various scraps of wool, from two scarves, a hat, and a pair of mittens. I'm using my mom's circs (she's not too happy), and magic loop, which is actually quite fun!
Yarn stuff: Cascade 220 is the purple and red and the blue and green is paton's wool.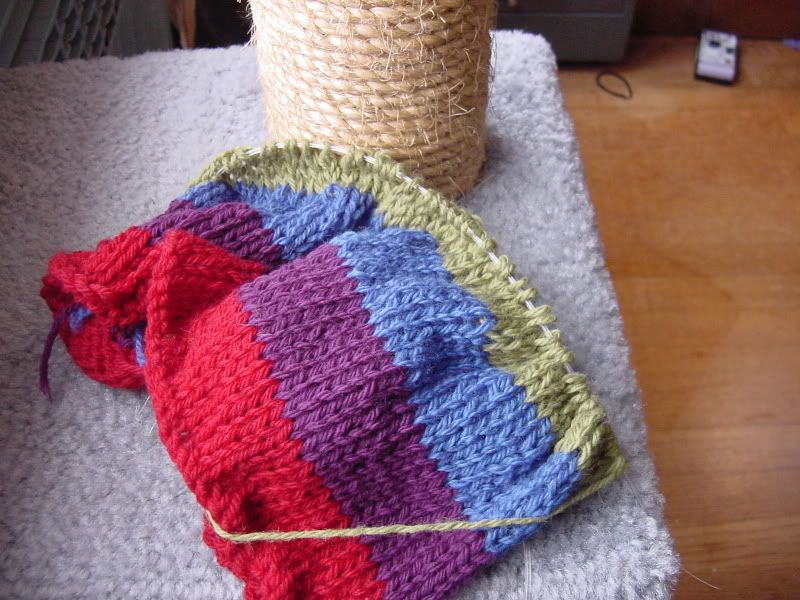 Also, I didn't technically "steek" the vest.. It was HUGE, so I sewed the sides in. So, I didn't really steek.
I forgot to mention yesterday: I got the new Vogue knitting. I am EXTREMELY disappointed in it. There are no patterns that stand out at ALL. There aren't even any good articles. As soon as my subscription runs out, I'm subscribing to Interweave, mostly because Eunny's the editor.