I'll show you my mother's socks!
I love them. Do I have to give them away?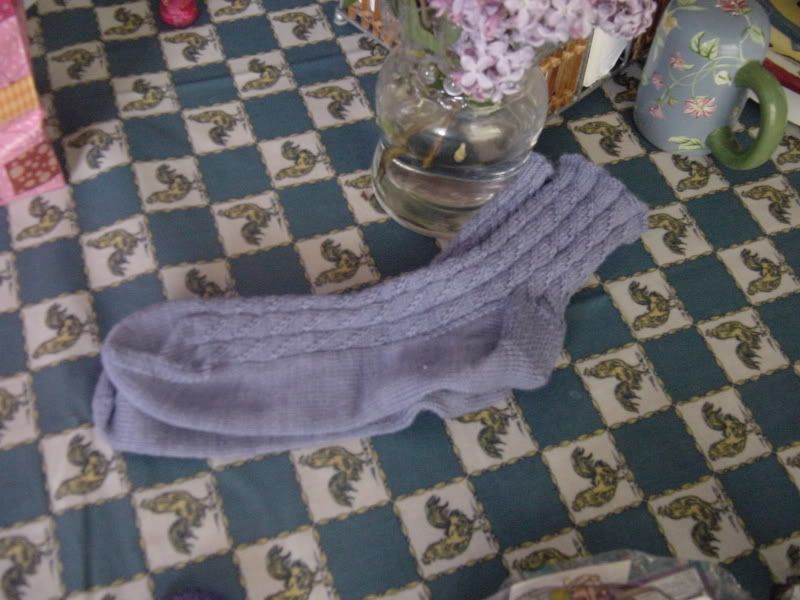 I know they look funny there, but look here:
Hmm. Lorna's laces has amazing stitch definition. Like cotton, but with stretch!!!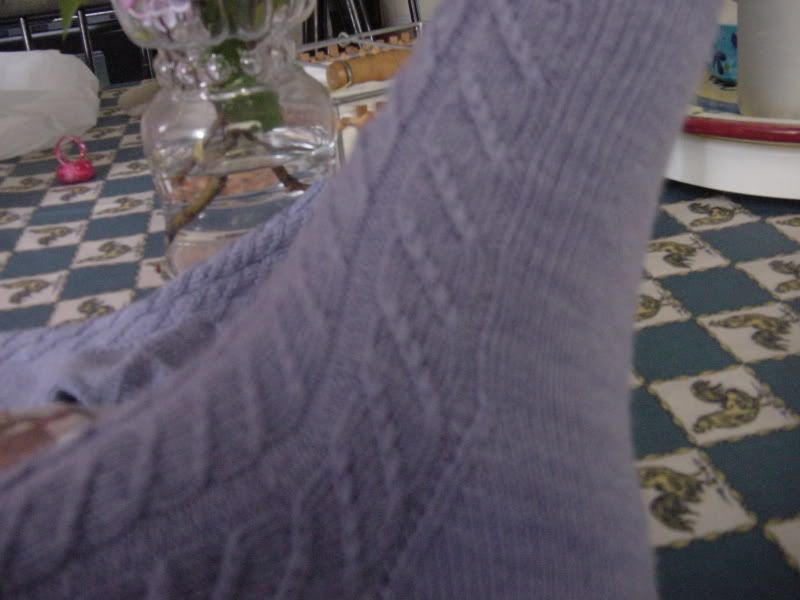 And look at the striping!!! Not obnoxious, but beautiful!
Yarn: Lorna's Laces Shepherd Sock Perwinkle, 2 skeins w/ about half of one skein left over
Needles: Knitpick's dpn size zero
Pattern: Hello Yarn's Cable twist socks, interpreted by Grumperina, then by me (She thought that 64 sts was sufficent for zeros!!!! Not with mom's big feet! I used 80 by adding an extra two patt repeats w/ 8 sts each)
Anyways, so for something else. I ordered yarn from an online place that doesn't have TONS of yarn, but it has stuff I want, and with free shipping!!! (sorry, I don't want to tell!!! hehehe)But I ordered Cotton Fine for my cousin's socks, in a blue and a grray blue. But it's backordered. Sadness. So That's why I started the socks that I mentioned previously.
(also to get me through the AP exam reviews!)
So I'm waiting.
Other future plans:
1. I want a lace shawl. Not particulary for me, but I want to make one SOOO bad. I think that Prom shawl really has given me a REAL lace bug. And I found
this yarn
, that you could make a medium-sized shawl with for about 16 dollars. Eunny
made one
. I want to make a shawl for my Nana. She is often is my inspiration for many things: sewing, knitting (although I could teach her things about knitting!) and baking. She really is just a lovely woman.
2. I want to buy more yarn, preferably sock yarn. I've got a job, and despite the fact that I have yet to work, I'm planning on all the things I want to do with the money!!!
3. Dad needs socks (cotton fine? depends on my satification with it with my cousin josh's socks) for father's day.
4. Mike needs socks. Just in general. I'm thinking
these
. When we looked (and by we, I mean I was like "mike, Look! LOOK!!!!") through knitty, he saw those and did this funny breathing thing that he does when he sees something that he either wants or thinks its really funny. But he wanted them this time.
Now for your daily dose of non-knitting: My hair.
It is very very thick. For those who don't know or remember, today is prom. I am curling my hair in about ... a 1/2 of an hour. This picture was it about ... 20 minutes ago. Wet. Dripping. And so like that it'll stay until about three hours after I get out of the shower!
(I just realized that when I say 1/2 of an hour, I actually say halfahour. Must be a New England thing)
I have a feeling that my hair was supposed to be curly, but then someone realized that no one in my family has curly hair, so they just left it thick!!!
(I'll post picture later of me looking like an Umpa Lupa with hot curlers on my head)