I finished one of Kayla's socks, and started the second, during the New Years Eve party I went to. This must take talent - there were about 30+ people in a split level house and about 95% of the people were all in the same room. It was fun, though, and everyone decided to dress up (just the girls, of course), so we were all sparkly and pretty.
I love and hate these socks purely because of the stockinette. Easy to knit, but soooo boring. A great in-class knit, though.
As for mike's socks, I'm past placing the heel, I guess you would say. I've always been fascinated by the afterthought heel, and because of the neat stripes on the leg, I've decided to do one for this pair.
(the grey is the heel placement)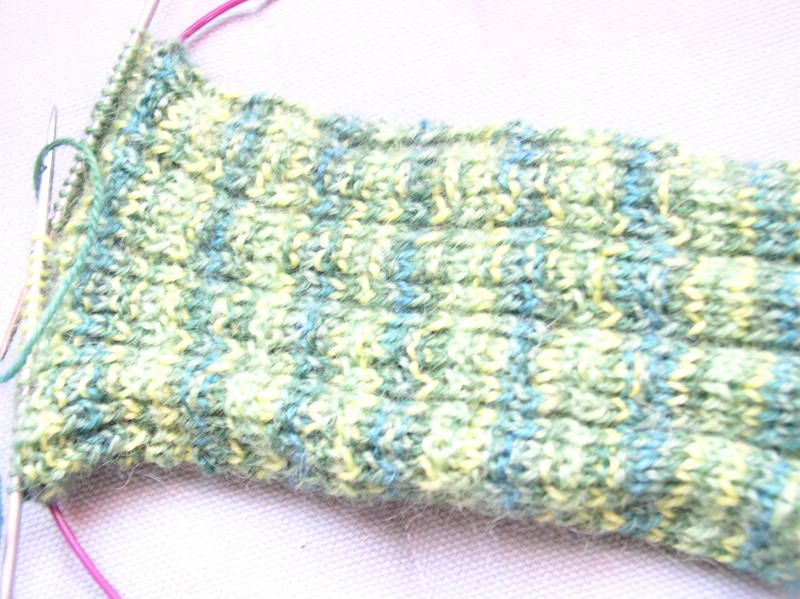 I keep thinking about the amount of sock yarn I have and being overwhelmed. But then, I remember that I don't HAVE to knit it all now... and that makes me feel better.
Future knits I'm planning:
Ice Queen
with stashed Kidsilk Haze and beads.
Dad Socks, I don't REALLy know what pattern, in Lorna's Laces SS Pewter
Dad Fingerless mitts, Probably a pattern from
Weekend Knitting
, in Knitpicks Swish DK (mist)
Muir
with Malabrigo Lace and addi lace needles. But I don't need that til prom (MAY!!!)
Socks for mom, (pattern?) in Franklin Sock yarn
And obviously, alot more socks.