So, I guess my toes are pointy. Not as in each one individually is pointy, but they all slope together to a point. My father complains all the time that the socks I've knit him have pointy toes, and I've told him it's only because it was his side of the family I inherited the toes from.
But this has a point. (hehe... Bad Pun!)I finished my embossed leaves socks today, and when i tried them on they looked like this. With normal people's feet, the type of toe favored is a rounded one. So, with mine....I needed more point to it, you know?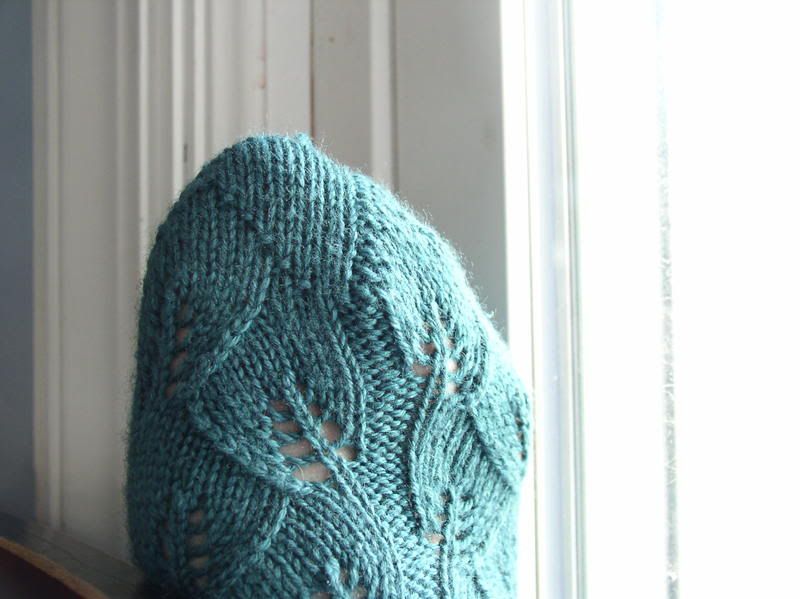 Yes I know my toes look normal, but in actuality, they are very very squished.
Side by side for comparison - pointy on the right, rounded on the left.
The last 7 rows, the pattern says to decrease every row, so I decreased every other row until I have 12 sts, then grafted the toe together. It fits me better, not great, but thats all I can hope for with the pattern. If I wanted to make patterned foot longer, I would have had to knit another repeat, and that would have been too much length.
Pointy toes:
And the two!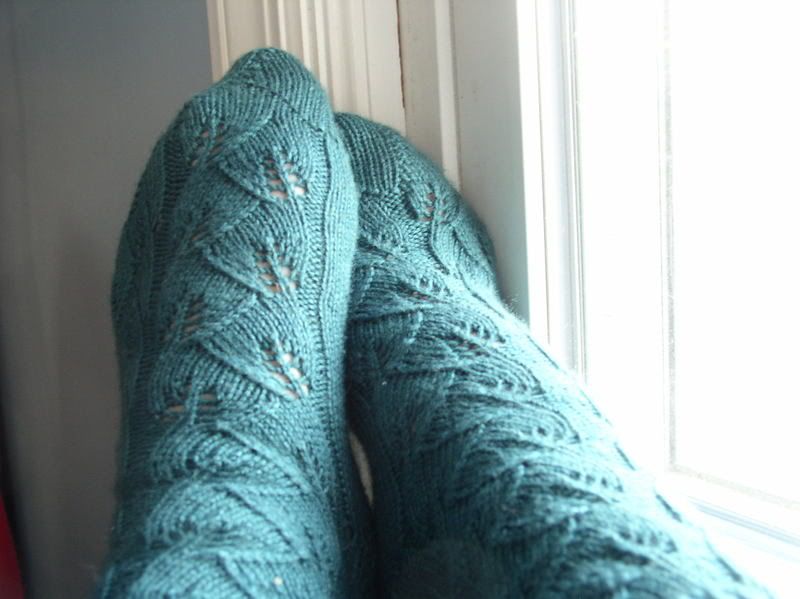 Pattern: Embossed Leaves Socks, in Favorite Socks.
Needles: Two at once Magic Loop, 32" size 2.25 mm circ.
Yarn: Knitpicks Gloss (Love it, but I have to knit a swatch and throw it in the wash to see if it'lll come out fine, here we wash our clothes in cold water, so many knit things do fine in the wash!)
Mods: Instead of decreasing every row the last seven rows, I contuined to decrease everyother row, and then when I had 12 stitches, I grafted them together (don't do that if you decide to use this mod - decreas until there's 10-8 sts, then pull the yarn through the stitches).
I got some fiber today in the mail from
here
. It's just so bright! (FYI from now on, I'm going to try doing a "Fiber Friday" where I'll show new yarns and fiber, so I won't have to bombard the blog with pictures every time I go yarn shopping!)
Superwash Merino Top, Green with Envy Colorway
My new Socks approve (I'm wearing them - very smooshy!)