I have five. I never have five. Well, actually since about january I have - because I was so excited about being done with christmas knitting! And now, I blame ravelry. I have a pair of socks that I'm only on the first one's heel, and that sweater...I have knit on it in two weeks. I'm about two rows from the waist shaping, and once this crazyness with prom and AP tests is over, I'll start that up again.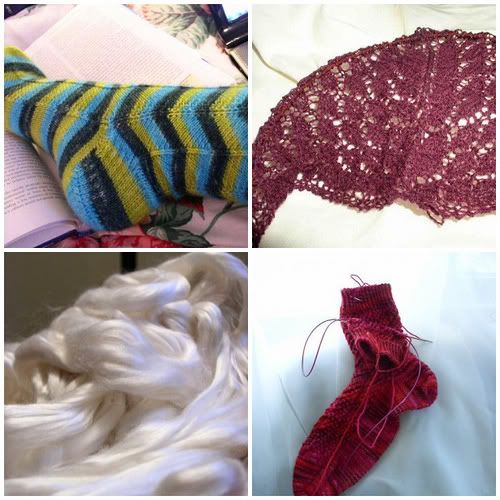 Finshed Jaywalker, new Swallow Tail, Silk that I'm spinning currently, and the Roommate Sock.
Oh, and my prom is... in three weeks? I don't have a finished dress. I have pieces of a dress... I'll show pictures when I get further along, it's one of those dresses that if it's not like ALMOST finished, it doesn't resemble a dress!
And my future plans... since my stash has increased insanely, I have sooo many projects in mind for my yarn. Socks, of course, but also a Baby Surprise Jacket, and a maybe some mittens from handspun! So many ideas...